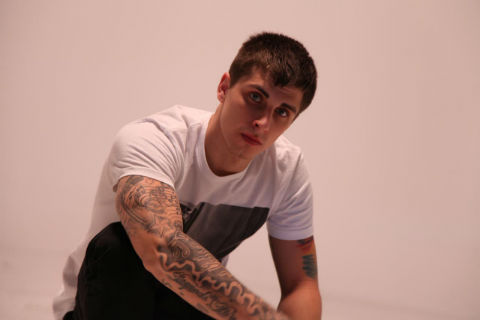 ATLANTA, GA – When Zach Farlow was in high school, everyone there knew he would grow up to become a musician … even the school principal. On days when he would drive to school, the principal would be there to greet him – standing at the edge of Zach's parking space with a frown on his face and a finger up, ready to tell Zach to turn the music down that was blaring from his car. By the end of his senior year, his classmates had voted him "Loudest System" – a moniker that made it into the school yearbook.
Not much has changed today. Zach is still playing music loud and bringing people together to have a good time. The only difference between now and high school is that the music he blares is his own. His newest hit, "Celebrate" – produced by Platinum award winning producer Sonny Digital – is already making waves. It's a song that he says he's super proud of because it flies in the face of the adversity and struggle he's faced most of his life.
"It's the opposite of a lot of things that have happened in my life," he said. "It's something to be happy about. It's a song that says you should enjoy life and party. Life is short, so enjoy every day you get. It's a song with a fun vibe – a kind of vibe where you want to listen to it on a yacht in the middle of the ocean with your people and just hang out. It's a good vibe, and it's my way of saying, 'Just enjoy life.'"
The music Zach puts out into the world is something he considers to be his heart and soul. It's a reflection of everything he's been working toward over the years, and as such there's a lot of thoughtfulness and vision put into it. 
That's not to say that Zach's life hasn't been filled with struggle. In fact, much of his life has been tough. Many times as a young kid he found himself alone and on the streets, and had it not been for his mentor and label owner, Fank Mucerino, he knows he wouldn't be where he is today.
"I don't take life for granted," he said. "No matter what happens in life, you just have to keep pushing and keep going. I'm happy to be alive today and to follow my dreams, and for that I celebrate. Frank is someone who really has helped me through my whole life. He's always been there for me and he's just a really good guy. He believes in my music and he believes in me. He's been there through all my struggles – when I had nowhere to go or nothing to do, he'd pick me up and go to his house and I'd sit at the dinner table and eat with his family. I'd have Christmas with him. He's the main reason why my music dream has come true."
In return, Zach said he wants to honor Frank and the others in his life who have supported him along the way by producing music that will reach as many people as possible, inspiring them to enjoy life and push through struggles the same way he has. Some of the people he points to specifically include Chris Horvath, his personal manager; as well as Frank and Laura Mucerino, owners of Urban Angels Music Group – which is Zach's label. Zach released his first mix tape, "The Great Escape," with Urban Angels Music Group. 
"I really want to win, and I want my team to be happy and proud," Zach said. "I want everything we've worked for and done to be worth something. The goal is always to win, and I want to win with my team. I want to show the world that when you come from nothing, you can turn it into something as long as you have dedication and work hard."
"It took a long time for me to really find myself, and now that I've actually really focused on nothing but music and got my head in the game I know that I'm making real music that is truly genuine," Zach said. "Who I am as a person is coming out in the music. It's not just a game to me – I do this every day, and I have a team who believes in me."
Fans can find out more about Zach and his music on his website ZachFarlow.com, or check out his music videos on Youtube or Vevo. Fans can also follow him on social media @zachfarlow on Twitter, @zach_farlow on Instagram, and Zach Farlow on Facebook and Soundcloud.
© Starlight PR