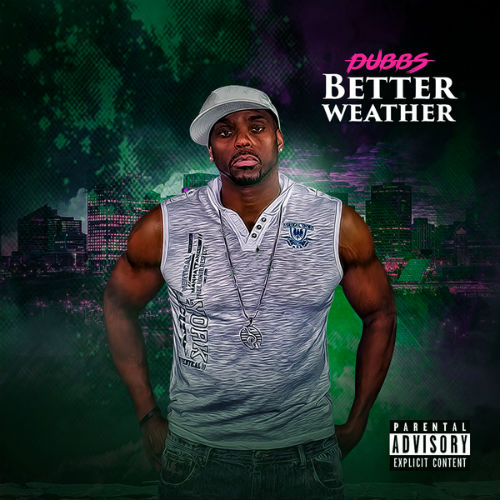 LOS ANGELES, CA – When John Williams was a child growing up in Riverside, California, he was frequently joining his father and uncles in the studio or at live gigs. The men in his family had formed a band that Williams describes as a imitation of the Jackson 5 … they called themselves the Williams 5. And though he laughs about the name today, he nods with respect to the dedication they had to their craft and the musical education it afforded him at a young age – an education that has served him well in his own musical career.
Today, Williams is known to most as the hip-hop artist Dubbs. He's been making music for more than a decade – producing and featuring on other artists' projects. But this year he took those honed skills and decided to apply them to his own solo project – a 23-track album called "Better Weather," which will be released Sept. 15.
"I've been in music about 10 years, but before I was just an artist," Dubbs said. "I'm producing and doing my own stuff right now, and 'Better Weather' is about how I'm coming out of the last couple of years, which have been kind of rough with life. A lot of people have been trying to bring me down, and as I've started seeing success, a lot of friends have started to get jealous and turned their backs on me. This whole album is kind of dedicated to all of that. The overall theme is about trying to keep your head up and believing in yourself."
Conscientious hip-hop is a great descriptor for the kind of music that Dubbs makes. Though his sound is a mixture of multiple different genres – from club songs to old-school hip-hop and even trap – his lyrics tend to be introspective and thought-provoking. No matter what type of track he's making, he always imbeds a message that he hopes will be inspirational to others.
"My goal with every song I make is to encourage people to stop listening to what everyone else tells you to do and just have your own art and craft and believe in what you want to do," Dubbs said. "Go against the grain and dare to be different. That's what's been going on for me. My music doesn't sound like anyone. I use different drum patterns and it's like nothing you've ever heard before. If there's a sound that I'm already familiar with, I won't use it. You can try to put me in a box, but you can't. And that's what I want my music to communicate to other people – don't let people put you in a box."
As Dubbs continues to advance his career in music, he has seen success in several competitions and multiple Internet radio spins. He hopes that this next project will receive some major radio play.
To listen to Dubbs' music or to follow him on social media, please visit the following links:
https://www.reverbnation.com/dubbsmusic
https://www.facebook.com/bigdubbs.net/
https://twitter.com/bigdubbsnet
https://soundcloud.com/bigdubbs/
https://www.youtube.com/user/MrBigdubbs
www.Bigdubbs.net