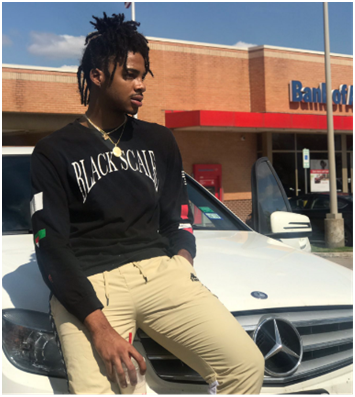 Restless and impatient, PATRICH is ready to rip the game apart! In the ever-evolving wave of hip-hop, one need not look further than 20-year-old Dallas based artist PATRICH (aka PATRICH1500). With so many copy-paste artists, it is always refreshing to hear someone who is constructing their own musical repertoire. Reminiscent of flex music, his melodious flow is a blend of trap and a weaving of rock. If you love fun tracks with a hint of braggadocios, his newly released video" $TUNTIN , shot by Dallas videographer Reel Bump and the single "1500" are great introductions to the artist.
The self-proclaimed "Trap-RockStar" developed his style while growing up in one of the roughest areas of Dallas where he was inspired and encouraged` by one of his best friend, Forrest Slump of the popular rock band Pyrex Pirates. "Whether you are from Beverly Hills or Beverly Hood, anyone can 'Stunt' and 'flex'", said the artist.
Today PATRICH is one of the hottest, up-and-coming artists that is generating buzz. He accredits his growing following to his high-energy performance style where it is not unusual to see the crowd mobbing and moshing. His most recent performance was at the Hoodrich Pablo Juan concert, in New York City and other performances lined up for Los Angeles later this year. In the midst of performing, he will continue to "flex" in his upcoming EP called "Pat Dibiasi."
To listen to PATRICH's music or to follow him on social media, please visit the following links:
https://twitter.com/PATRICHlaflare
https://instagram.com/PATRICHlaflare
https://soundcloud.com/PATRICHthegoat
YouTube: https://www.youtube.com/channel/UCuMVuiB6-AAuEdUJTCYp7nA?