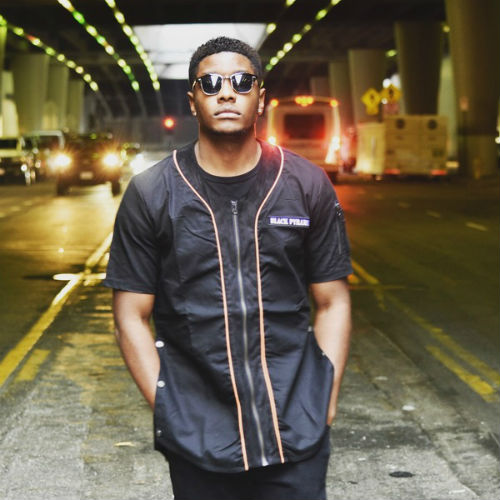 LOS ANGELES, CA – February 19, 2007 … not only is that the title of the final song on J.F. The Force's new EP "On My Way," it's also the date his parents and older brother died in a car crash. At age 9, that was the moment that The Force's life changed forever, but it was also the moment that propelled him toward an eventual career as a musician. Because in those dark days and the struggling years that followed, music was always his go-to source of release.
"I almost always would listen to Chris Brown," The Force said. "He was my biggest inspiration. And eventually the more I listened to music, the more I discovered that I had a natural talent of my own. I can actually sing and rap. By high school I was thinking to myself that I could do this as a professional."
Now two years removed from high school and a recent graduate of the LA Film School, The Force is ready to launch his first project. The eight-track EP is all about where he's headed in his career and life. He said it's a testament of his unique style of music, and it's an announcement to the industry that he's on the scene and ready to stay.
"It's a little bit of everything," he said. "There are songs you can dance to and songs to cry to. There's a song on there called 'Don't Shoot' that's about police brutality. And there's '2/19/07,' which is almost an 11-minute song about my parents and older brother dying in a car crash. A lot of the inspiration for that song came from J Cole, who wrote a song called 'For Your Eyes Only' which tells an entire story about somebody. I like writing songs like that that are deep. It's the type of hip-hop music I listen to, and those kinds of songs make me really listen to what I'm saying. I want my music to reach everybody in the same way and help them to know that they can do this if they put their minds to it."
J.F. said he adopted the stage name The Force from his love of the movie "Star Wars," in which the force is a term for hidden strength.
"I feel like everything I've been through in life and required me to be a strong person," he said. "And my music speaks for itself in how strong it is. I'm very versatile. I can do a club type song and then a song that'll make you get the feelings, and then a song that can really make you think. I sing, rap and dance. All of it is just about how I express myself, and I'm ready to share it with the world."
The first single off the upcoming EP is "Like This" and it is currently available on all digital distribution sites. "On My Way" will be available by mid-January, with a second song from the EP – "Wiggle It" – slated to drop in mid-December first.
To listen to J.F. The Force's music or to follow him on social media, please visit:
https://www.instagram.com/jftheforce/